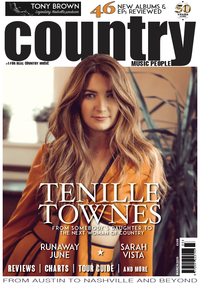 Thanks to Paul Riley at COUNTRY MUSIC PEOPLE  for this lovely review of our album in the March 2020 issue!
THE NINE SEAS Dream Of Me
The Nine Seas are a new band who mix Americana with Gospel and country. They are spearheaded by two talented singer-songwriters, Fiona McBain and Liz Tormes. The two women have been performing music for around 20 years and this new release is their first together but hopefully it won't be their last. On Dream Of Me we get original songs mixed with some superb cover versions. The album starts with an original song, Am I Still Your Demon, which has been written by Liz Tormes. This high-quality track features harmony vocals, an acoustic guitar, and for atmosphere, a trombone played by J. Walter Hawkes. The song has an engaging kind of late-at-night country feel with the trombone adding a touch of jazz. It's a fine start.
Among the cover versions is Don Gibson's classic Sea Of Heartbreak. It has been covered many times but probably not with the originality heard here. The Nine Seas version sparkles with style. The band offer the usual harmony vocals married to handclaps, drums and a triangle. It works a treat. Country legend Charlie Rich's song, Midnight Blues, gets a wonderful new arrangement that takes the song in a slightly new direction. It's less upbeat, starting slowly and building to mid-pace. A copy of the original would not really have worked for The Nine Seas. Another cover version of some note is Trials, Troubles, Tribulations, a hellfire and brimstone Gospel track from 1959. This song has also spawned a fair number of cover versions. The Nine Seas version quickly catches fire. The simple arrangement with banjo and harmony vocals is almost hypnotic. Another version of this song is included as a bonus track at the end of the album. The banjo is replaced with an acoustic guitar, the banjo version works best.
Back with the original songs: Where He Rests is a touching tribute to the police and fire department people who were killed on the terrible day that was 9/11. The song is penned by Fiona McBain. It has a kind of subdued folky feel with a psychedelic flourish at the end. Also on the album is a new version of the Chet Atkins and Boudleaux Bryant gem Midnight. There are several versions of this song on YouTube including Red Foley's 1950s version. The Nine Seas version – with its new arrangement – has a delicate, charm and the late-night feel works well.
The Nine Seas used to be called Fizz. They only played live under that name and recorded no albums but decided on a name change as another band are called Fizz. Dream Of Me hits the target and is very entertaining. Anyone who likes bands like The Haden Triplets or The Secret Sisters may also enjoy this new album. The original songs are all well-written and the cover versions indicate a love, and understanding of country music. This is a superb debut. One to buy.